Article
Meaningful stretch assignments for leadership development?
Overcoming the challenge of stretch assignments in global leadership development
Or, how a leadership position in a start-up in an emerging economy can do so much for your next generation leaders
When I am asked what I do, part of the answer I give is 'global leadership development programs', but a more correct answer is that I help deliver a part of companies' global leadership development programs. The classic guideline for developing managers is based on the 70-20-10 framework, developed based on interviews with successful managers(1), where it was found that:
70% of learning (i.e. personal development) was from challenging, hands-on experiences or assignments for the individual
20% was from interactions with others, including receiving feedback, and
10% was from formal learning
This typically translates into a model for company leadership development programs shown very simply here: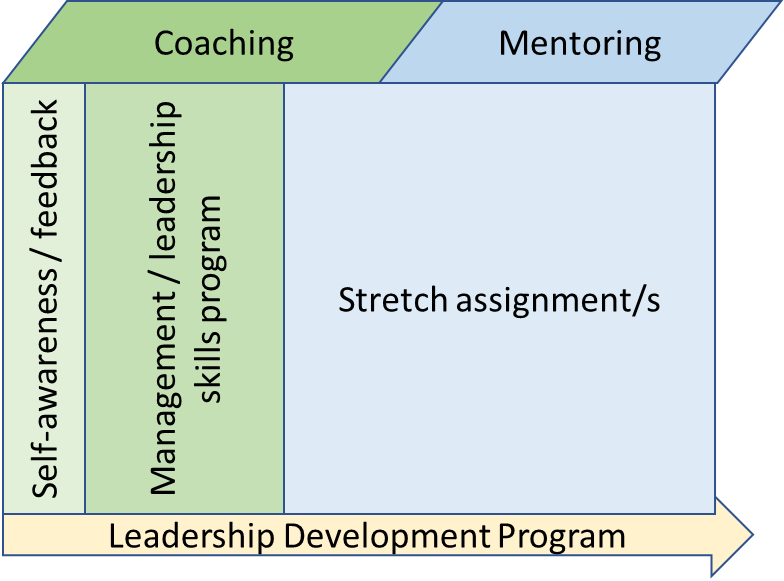 The parts in green are often outsourced by companies (which is where I come in), and cover building self-awareness within the leadership program candidates through psychometric assessments, 360 feedback, sometimes development centres. The skills and/or knowledge piece is covered through formal training sessions, MBAs or company in-house programs. Coaching is almost always through an external coach, and may extend past the formal training period.
The blue parts are what the companies themselves are responsible for providing. Mentoring is not an alternative form of coaching, but allows a program participant to access advice and contacts not normally open to them.
But it's the other blue part, labelled 'stretch assignments', and the associated challenges that companies face with this part, that I want to focus on today.
The challenge with stretch assignments
I've seen stretch assignments handled in different ways in companies, but from discussions with HR and senior managers, it's clear that this is a challenging area for many companies.
One time-tested way is to appoint the participant as a 'right-hand' to the CEO. I've seen this happen in French and German companies, but of course it tends to apply to only a single person.
Global companies that are here in Japan (both Japanese and foreign capital) have the option of sending participants overseas, of course. Some Japanese global companies, like the trading companies for example, are well set up to do this. Foreign capital companies in Japan, though, are less successful in my experience.
But other companies struggle.
I have worked with one global Japanese company, earning perhaps 40% of its income overseas, where 50% of the directors and senior managers have never worked overseas. They recognize it as an issue but struggle to find a solution.
Another Japanese company where I was involved in setting up and delivering the initial elements of their global leadership development program (i.e. the green bits above) was unable to set up global stretch assignments for the 13 participants, even though they had a number of overseas M&A subsidiaries. As a result, half of these highly-motivated and talented HIPOs left the company within a year.
I'm sure many other companies, both Japanese and non-Japanese, must find it hard to set up good stretch assignments that are relevant to the participant and beneficial for the company.
And simply sending someone overseas to a subsidiary may not be enough.
Fundamental changes in society and the business world are imposing additional pressures. Corporations are now expected to place greater importance on more 'socially-focused' aspects of leadership - like CSR, CSJ, purpose-driven leadership and so on. Additionally, as the pace and rate of change in the business environment increases, so does the necessity for leadership development programs to be designed to meet the future challenges that a company faces, for example with a focus on innovation, or entrepreneurial mindset. What kind of stretch assignment can meaningfully touch these areas?
Is there a solution?
One option is to send people abroad to work in NPOs (so called 'Ryushoku' 留職 in Japanese). This certainly satisfies certain criteria on the social contribution front, and widens awareness in a true global fashion, but it's not corporate focused. Another option in Japan is 'Rental Isseki' (レンタル移籍), where HIPOs from large organizations are placed into small Japanese startups or regeneration organizations, often in rural Japan, so there's a transfer of knowledge and experience on both sides. However, because it's only a national placement system, the global aspect is lacking.
Now, however, there is another way – PFC's GCEP(2) program.
Simply put, PFC have set up a program to place next generation leaders, of any nationality, who need to have stretch assignments into leadership positions, into start-ups in an incubator attached to a technical university in Cambodia.
This program ticks a large number of boxes:
Real: Participants are assigned to startup companies housed in a university incubator. These are real, entrepreneurial companies with real products looking for real results, and with real investor potential. Some have already received external funding.
Meaningful: Participants bring their skills and knowledge to help develop real and lasting economic activity in a developing country that wants to be the Silicon Valley of SE Asia. That's positive social action.
Global: Participants have to not just survive, but thrive, in a developing country, working with and leading others in English from different cultures.
Challenging: Participants must take on responsibilities and deliver results, while overcoming challenges & frustrations, set-backs & maybe failure. They are fully supported by PFC and the university but it's their baby, and their learning.
Leadership development: Participants take part in positions of responsibility. They will need to show and develop leadership to get results in their startup. And they come back to their company with an innovative, entrepreneurial mindset and a much wider global awareness.
We have an explanatory page in Japanese, but please contact me, Justin, via pfc@peoplefocus.co.jp if you want more information in English. This program is not limited to Japan.
(1) The Centre for Creative Leadership were central to this www.ccl.org
(2) GCEP: Global Corporate Entrepreneurship Program