Article
We've Become B Corp Certified!
In February of 2023, People Focus Consulting obtained B Corp certification. B Corp certification has been frequently mentioned in various media recently, so many of you probably know that B stands for Benefit for All and Corp for Corporation. It is a globally-recognized certification that is granted to companies with a high level of public contribution, managed in a way that benefits society and the environment. In other words, it is required that the certified companies pursue benefit not just for shareholders, but for all stakeholders including employees, customers, suppliers, communities, and the earth.
The certification criteria are quite stringent and it is not an easy certification to achieve. As of January 18 this year, 5,925 companies worldwide have been certified, and PFC is the 19th Japanese company to be awarded this certification.

Why We Pursued B Corp Certification
From the time PFC was founded, we have always striven to be a "B Corp-like" company. When I was in England 30 years ago, I learned about a company called The Body Shop, and was struck by the fact that business and social contribution could coexist as two wheels rather than in conflict with each other. I did some research on such business models and put together the findings and my thoughts in a book titled "Management of Courage" (JMA Publishing Co., Ltd.) in 1992.
Since founding PFC in 1994, we have pursued ways to contribute to society in our own way, such as establishing a policy of allocating 1% of revenue to social causes every year and offering a CSV (Creating Shared Value) leadership development program to clients.
In recent years, concepts such as the United Nations SDGs, ESG investment, sustainability management, and stakeholder capitalism have become widely accepted in the business world. While most companies have now started to advocate that they are contributing to society, many have also come under criticism for SDG-washing, green-washing, or other similar claims that they are just "pretending" to be so.
A Two-Year Journey
It was in January 2021 that I proposed the idea of pursuing B Corp certification to PFC. The following month, a task force was formed within the company, comprised of about 40% of employees who voluntarily raised their hands. First, we spent a few weeks trying to gain a better understanding of B Corp certification criteria. Then the task force members identified items that needed to be improved or addressed, as we examined how PFC matched up against B Corp standards. This was Phase One of the roadway to B Corp certification. (I wrote about findings and impressions from Phase One activities in my previous article.)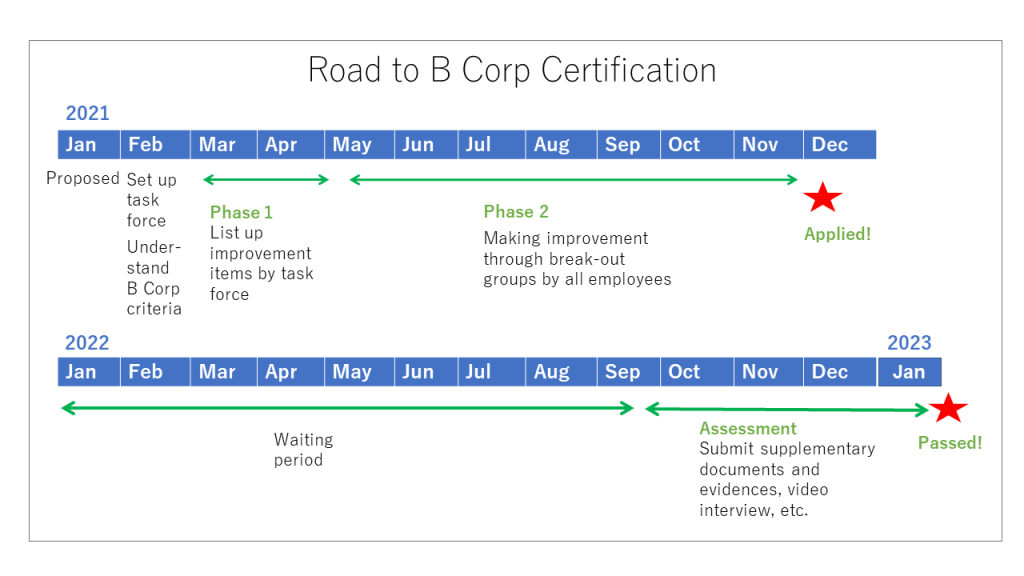 As a result, the task force came up with about 30 items that needed to be tackled. These items were implemented in the subsequent Phase Two, where everyone participated in the form of small project groups. What I am most pleased about is that this B Corp certification is an achievement for each and every one of us, since all employees took part.
After six months of improvement activities of Phase Two, we were able to apply for the certification before the end of 2021, which had been our plan from the start.
It was noted on the B Corp website that the waiting period between the application and the start of the review was long, and so it proved to be. But of course, we were not doing nothing - we continued the internal activities during the waiting period, trying to instill the new practices and systems that had begun in Phase 2. After 10 months of waiting, we were finally notified in September of last year that the assessment would begin.
The assessment consists of two stages; evaluation stage and verification stage. Once we passed the evaluation stage, which one could describe as an initial screen, we proceeded to the verification stage, where we were required to submit evidence of our responses to the assessment - a rather daunting task.
Based on those information and documents, their analyst determines whether each submitted item truly meets their criteria. This process is a tough one, and even if a company thinks it has surpassed the 80 points required for certification, it can lose points during this verification stage, resulting in a score of less than 80, and failing to be certified. In the case of PFC, the score was 85 in our self-assessment, and after the assessment, the final score was 83.7. Luckily, PFC did not lose too many points.
Going Forward as a B Corp Company
While the major gain from this exercise was that PFC has progressed as a company by putting in place the items required for B Corp certification, the evolution must not stop here. Re-certification awaits us in three years and as we have now stepped into a framework of continuous improvement, PFC must constantly raise our standards.
The B Corp certification gives us more confidence and conviction than ever in our ability to help our clients build organizations and develop talent to solve social issues through business. We are committed to live up to B Corp's philosophy of "Make Business a Force for Good".